WHAT IF ARSEN ROCK MEETS OZWALD BOATENG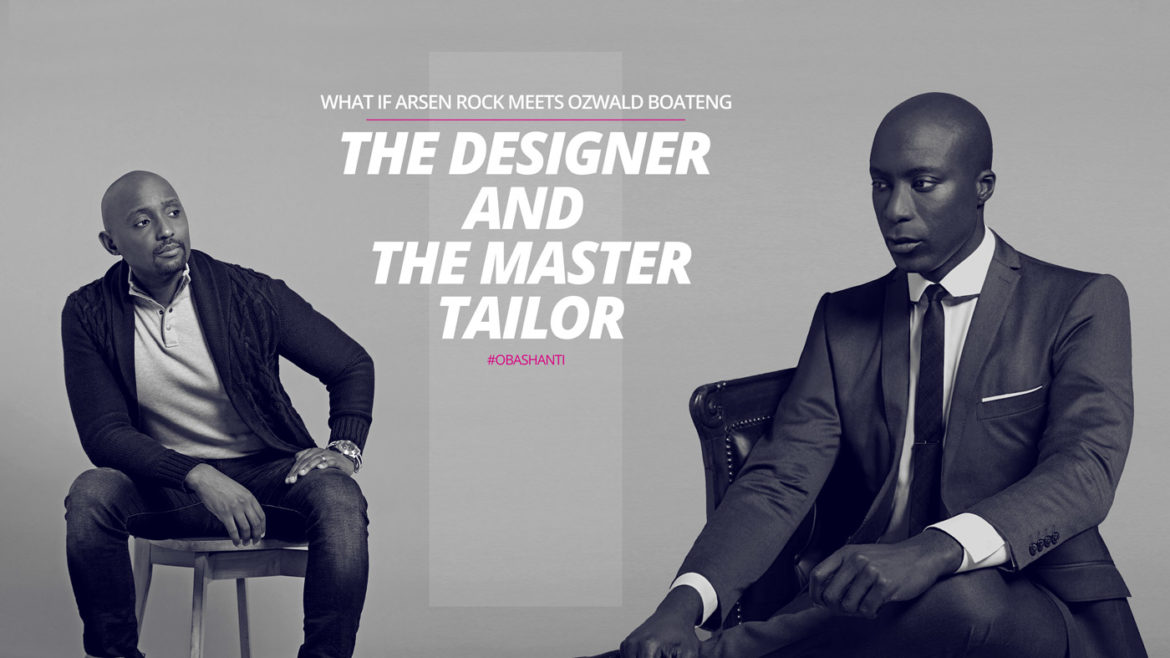 In this first episode of "WHAT IF ARSEN ROCK MEETS", Arsen Rock has permeated the world of Ozwald Boateng, famous for his elegant suits with perfect cuts and finishes. Avant-gardist, revolutionary with a bit of anti-conformism, this is what characterizes the British master tailor . We can only salute here his impressive work defined by the uncomplicated exploration of new shapes and colors. The OB Ashanti shoes is a tribute to this extraordinary man who knew how to make the difference in the rules of the art. Arsen Rock offers you through its various renderings and sketches a futuristic vision of the Oxford of the man of the 21st century.
"If I'm going to do something, I'm going to do it well. That's just my character, that's just the way it is with me."
with a bit of anti-conformism…"
Born in London to Ghanaian parents Ozwald Boateng's talent for flare and design came very early, after dropping out of the computing course he was studying at the time he enrols into Southgate College to study fashion. Recognising that the signs for his future career had been around him all along,  working from his mothers sewing machine he created his first collection which he sold to menswear fashion store Sprint in London's Covent Garden in the late 80s.
Ozwald Boateng has had a transformational impact on menswear fashion for almost three decades, with a design aesthetic rooted in savile row traditions but defined by international style, detail, and artistry.  His instinctive use of colour, cut and fabric fuses traditional classic British tailoring with a high end modern design focus on the refinement of a man's silhouette, this has brought tailoring to a whole new generation of men.
"A dream doesn't become reality through magic; it takes a lot of hard work."
Ozwald Boateng's design evokes the essence of a man's spirituality and character through the enhancement of the physical being. The acknowledgement that style is an extension of one's self culminates in the wearer having their own voice.
He has been part of much collaboration throughout his brilliant career. Boateng worked as the Creative Director of Menswear at the French fashion house, Givenchy after being appointed by Bernard Arnault, the President of LVMH. His first collection hit the Parisian runways in June 2004. Boateng discontinued working for Givenchy after his spring collection of 2007 came out. It is also interesting to note that Boateng designed the super premium credit card for Coutts in 2004 which came out in imperial purple. He also designed amenity kits for Virgin Atlantic's first class travelers in 2004 which were claimed to be the most stylish kits ever designed. In 2007, Boateng designed and orchestrated a show at the 9th Annual African Summit in Accra which coincided with cessation of the 200 year old transatlantic slave trade and Ghana's fifty years of independence.
Boateng is also a famous costume designer having designed costumes for box office hits like Sex and the city, Hannibal, The Matrix, Oceans 13, Tomorrow Never Dies, Ugly Betty and Rush Hour 3. He has also founded a nonprofit organization in the UK called Made in Africa Foundation in collaboration with Atlantic Energy alongside Kolo Aluko. The organization is established to help assist the development of the African continent and provide funding for the first stage of feasibility studies and business development of large scale infrastructure projects in Africa.
"The Ozwald Boateng x Arsen Rock OB Ashanti stands out for its sleek, elegant and unique silhouette."
The Ozwald Boateng x Arsen Rock OB Ashanti  stands out for its sleek, elegant and unique silhouette. The leather is carefully chosen, keeping in mind the final phase when waxes are applied by hand to gradually create subtle nuances that enhance the original beauty of the material, in truly unique finishes. The laces give the top of the shoe a very smooth and sleek line making them ideal for the narrower foot and elegant longer lasts. A special foam is inserted between the leather sock and insole for added comfort. This masterpiece have a special handmade welt "Vero Cuoio" sole production on the forefoot and on the side. The heel and a part of the outsole is 3D printed.
"Between tradition and technology, this shoe is a perfect illustration of what is best in the hybrid genre."
Between tradition and technology, this shoe is a perfect illustration of what is best in the hybrid genre. Its futuristic approach subtly married to the authentic know-how of the bootmakers, brings us a touch of freshness perfectly connected to the life of the 21st century gentleman.